3 Ways to Make a Small Space Look Bigger
One would argue that London is the greatest city on earth, and with a vast and growing population we are all fighting for space. With so many properties being small, dark and awkwardly distributed, the role of our team when staging becomes more technical - creating tricks of the eye to make a space feel bigger, more functional and larger for a buyers' discerning eye.
In this post we share our tips and tricks for you to adopt in your own home or a property you are selling - to create a lighter, brighter living space.
raise the roof
Using too much furniture and fixtures creates a bottom-heavy atmosphere making your space appear smaller and cramped. You can create the illusion of more volume with a higher ceiling using these clever tricks:
Using your wall space is important to create a sense of depth and openness. Installing shelving or artwork high on the wall can make your space feel more far-reaching.
Eclectic Parsons Green Lion House bespoke joinery and styling by Yohan May Interiors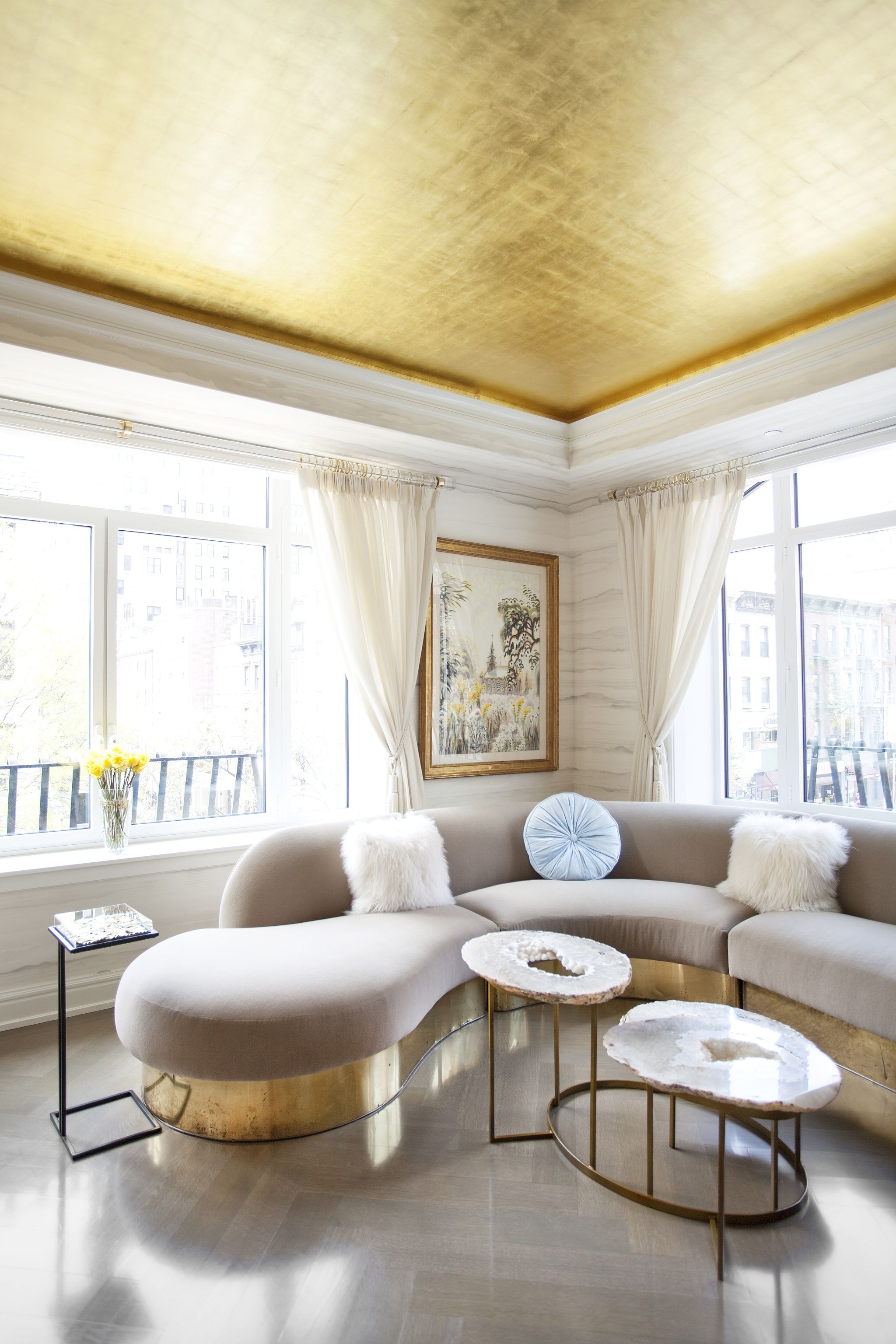 The combination of a patterned or bold coloured ceiling with lighter walls and floors is a powerful decorating tool to raise your roof. It draws the eye up giving the sense of a higher ceiling which in turns gives the room a feeling of more space.

Upper East Side II by Sasha Bikoff Interior Design
SIZE MATTERS
Selecting the right proportions and materials for your furniture will make your space feel bigger and more open. Choose one statement piece to be the focal point, ensuring balance within the room.

It may seem like pushing furniture flush against a wall will utilise your space best, but it actually makes a room feel cramped and cluttered. Positioning furniture away from the wall creates more negative space in the room, making it appear airy. You only need a few inches between the furniture and the wall to create this illusion.

Luxury Brompton Square Penthouse by Yohan May Interiors
Choosing materials like trendy glass and lucite create more depth in a crowded space and allows more light to enter and travel around a room. Choosing a glass coffee table gives you more visual space and a beautiful contrast with the colour and texture of other furniture you pair it with.
Spectacular Family Home by Yohan May Interiors
Let There Be Light
Creating the illusion of more light brings an airy soft focus to a room which gives the effect of more space.
Install custom mirrored panels to walls and enclaves – or hang decorative mirrors in the right places to help bounce light around the room. This not only gives you a brighter, lighter room it also creates the illusion of more depth.

Luxurious Fulham Flat by Yohan May Interiors
Leave your windows uncovered by installing Roman blinds or completely bare if you are selling your property. More light will penetrate a room when window are kept sleek or naked.

Luxury Brompton Square Penthouse by Yohan May Interiors
We love sharing our design tricks to make the art of interior design available to everybody, and are always keen to hear new tips and advice. Tell us in the comments below if you have any clever tricks to make a space look bigger!
Written with our talented summer intern from USA, Madison Bland.